Academy of Special Dreams Artists' Artwork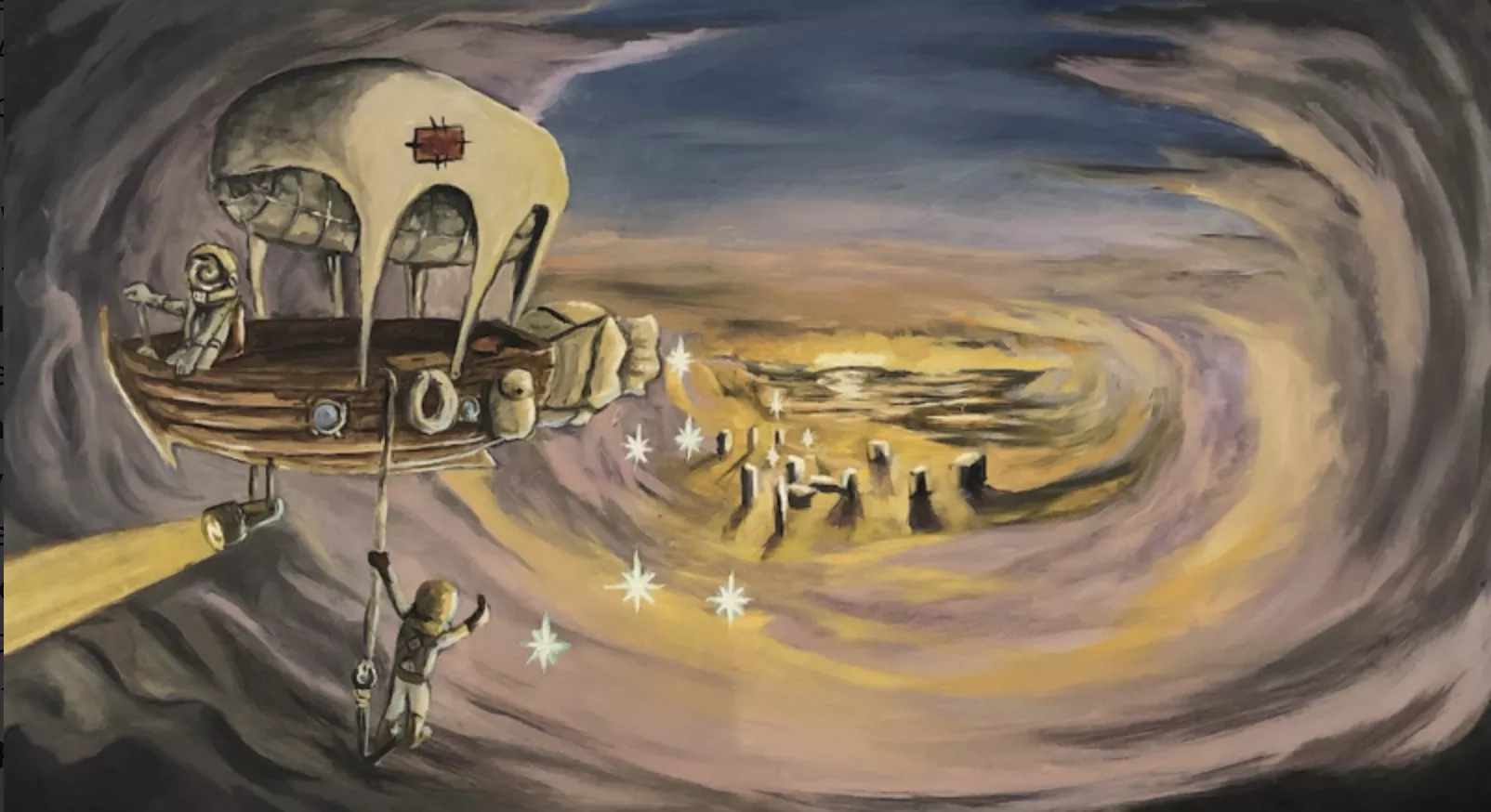 Michael Unsinger
My Magical World, 2022
Oils and Acrylics on Board.
A flying wooden boat is held aloft by a balloon. Two figures dressed in helmeted flight suits crew the ship. One has their hand on the lever at the front of the ship looking forward and the other stands on a small platform that hangs off the side of the ship looking back. Behind the ship a vortex of clouds frames distant golden structures on the land.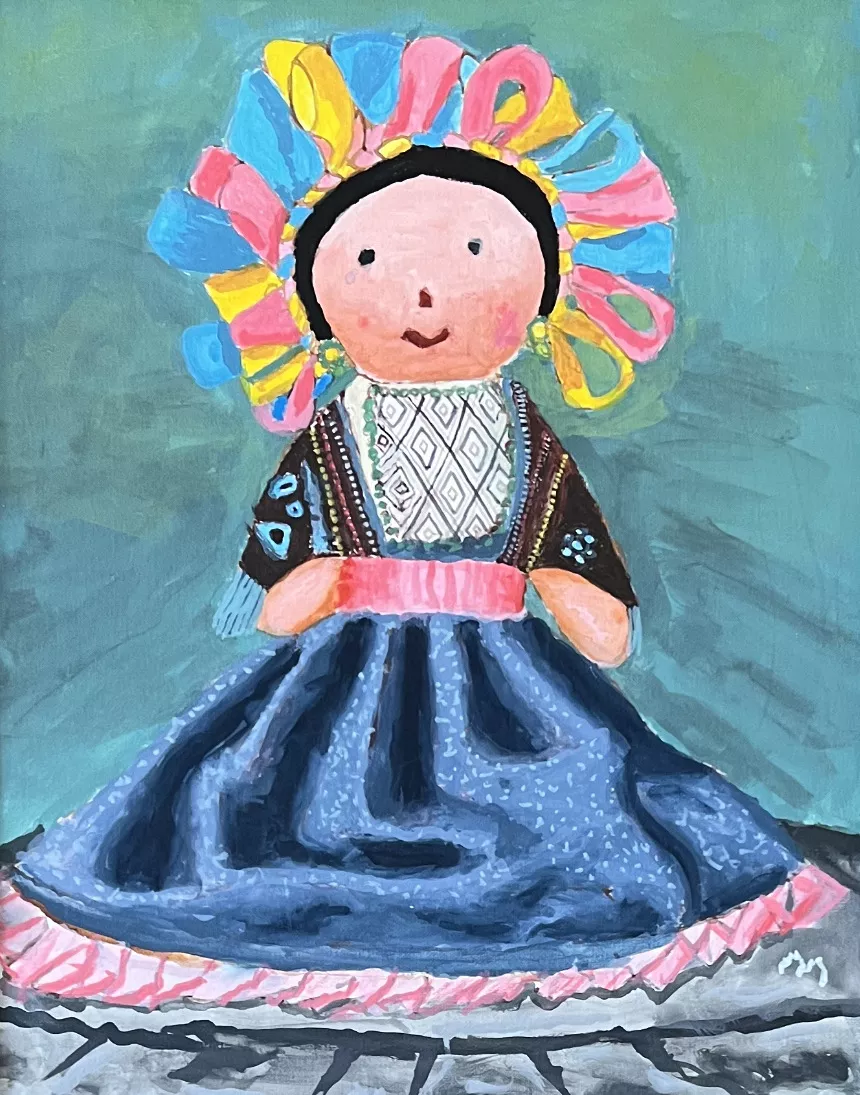 Martha Olivas Torres
Little Lele, 2021
Oils on canvas, 15"x20"
A little doll that represents happiness and freedom. The doll is wearing a crown made of yellow, pink, and blue ribbons and a traditional folk dress with a blue skirt with a pink sash and trim.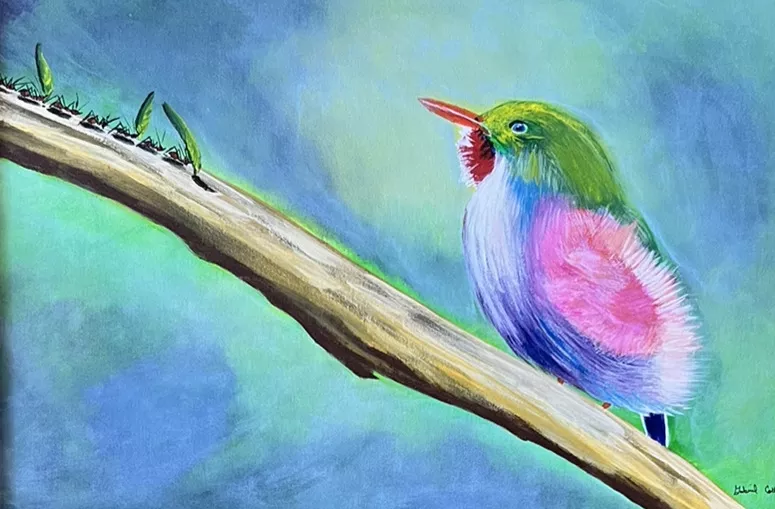 Gabriel Cortez Gutierrez
Payaso

(Clown), 2022

Painted by mouth, Oil on canvas.

The artist describes the piece as a representation of brotherhood and friendship. A softly feathered bird with a green head, orange beak, pink wings and blue body is perched on a branch. It faces a marching line of ants carrying bits of greenery.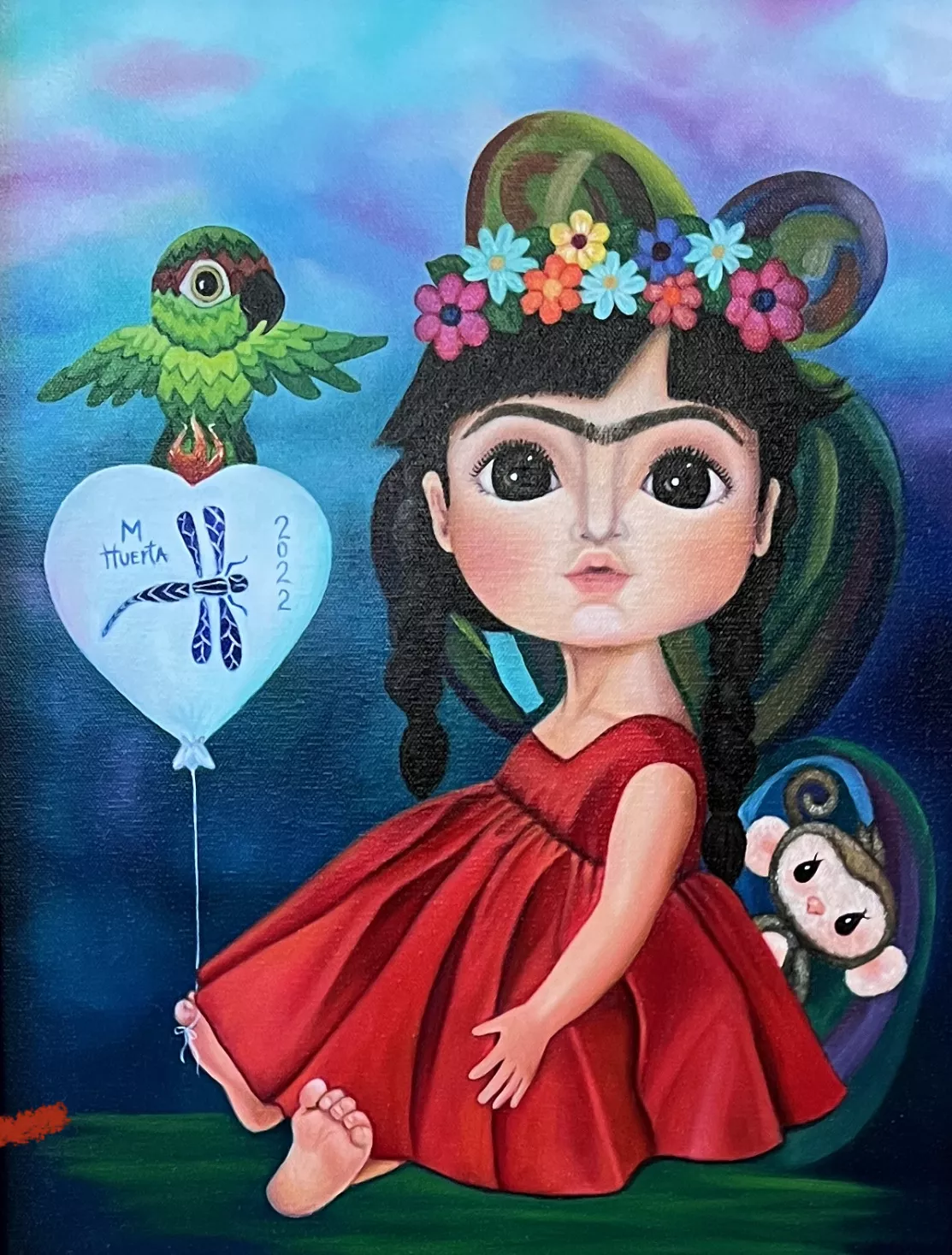 Maru Huerta
Pies, Para Que Los Quiero, Si Tengo Alas Para Volar

(Why Would I Want Feet When I Have Wings To Fly), 2022

Oils on canvas. 14"x20"

The artist describes the piece as representing a woman's pride and love for her family. On an ombre blue sky with soft pink clouds sits a barefoot and wide eyed girl with a unibrow. She wears a red dress, a crown of flowers, and her hair hanging in two braids. A small monkey peeks from behind her. A green bird flutters its wings while standing on a heart shaped balloon on a string that is tied to the girl's toe. The balloon has a dragonfly image and the text reads: M Huerta 2022.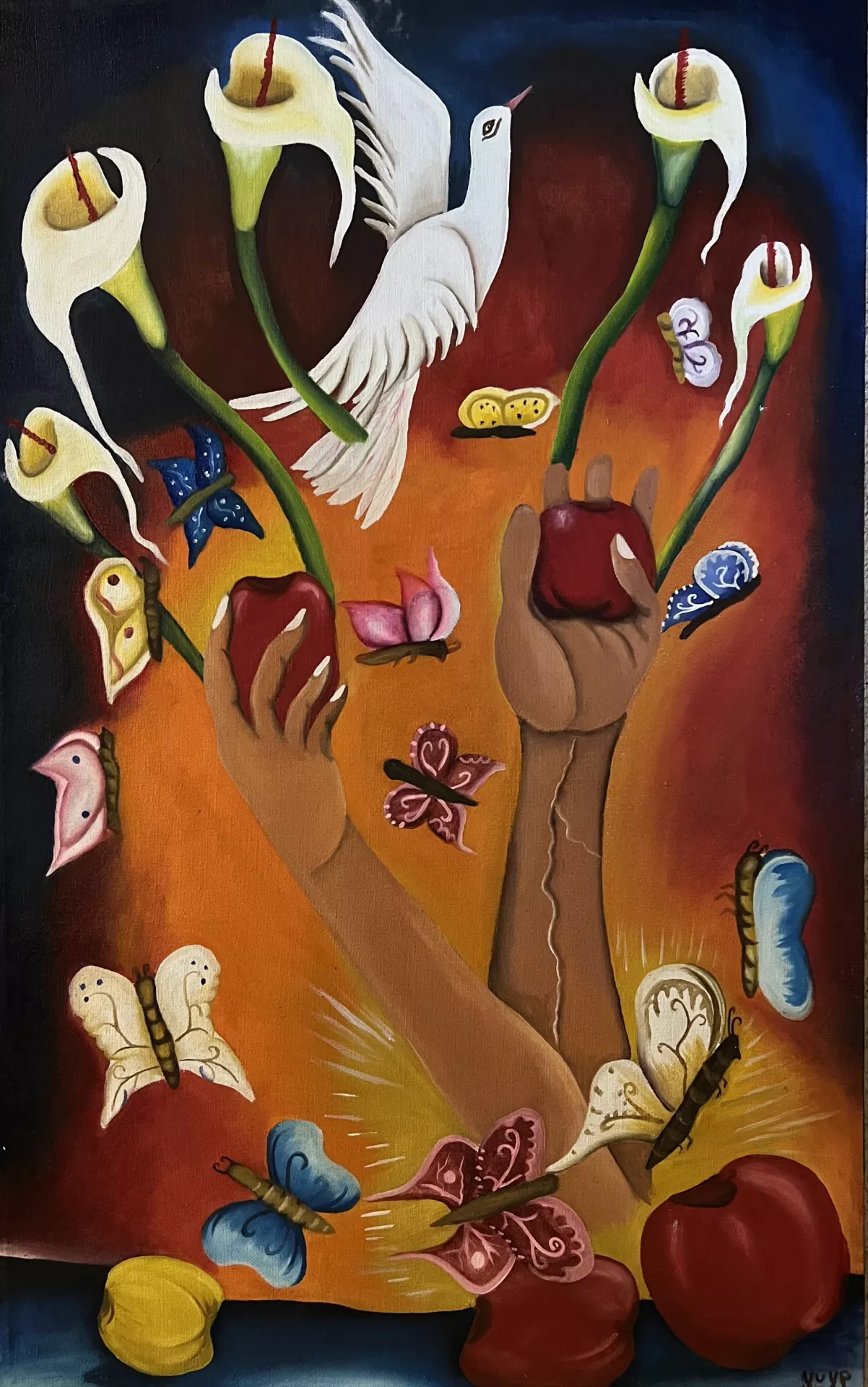 Santa Obdulia Hernandez
Manos de Libertad

(Hands of Liberty), 2022

Oils on canvas. Size: 20"x30"

The artist describes the piece as forgetting her limitation and becoming as free as the wind. Two brown feminine arms burst from golden rays and they are reaching up holding red apples. From behind the apples green stems become white calla lilies. A white dove flies straight up a different types of colored butterflies flutter about the scene.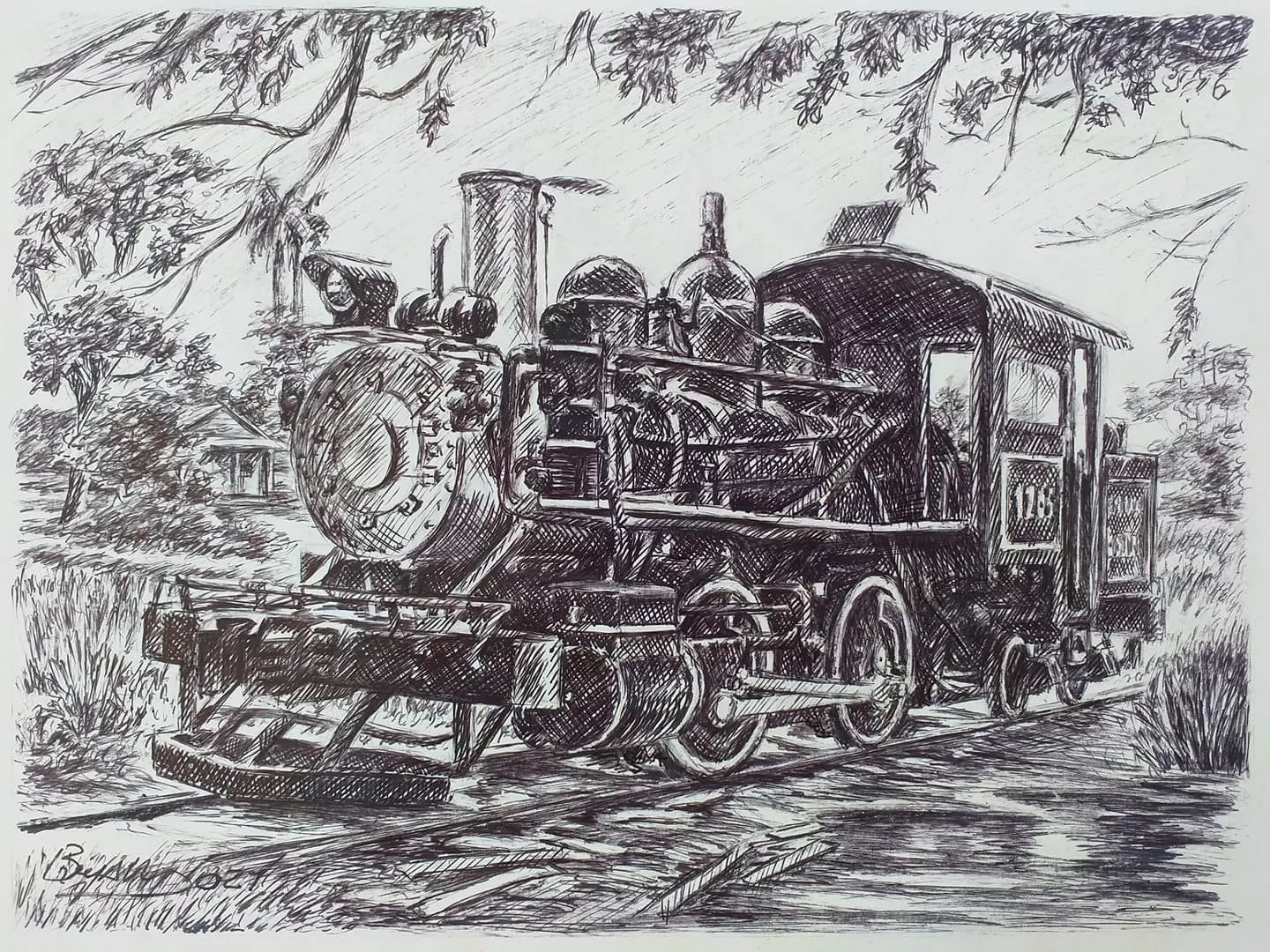 Bryan Estevez
Train Collection, 2022
Drafting and pencil
A black and white pencil drawing of a detailed steam engine train. The artist describes the work as an expression of his passion for trains and life.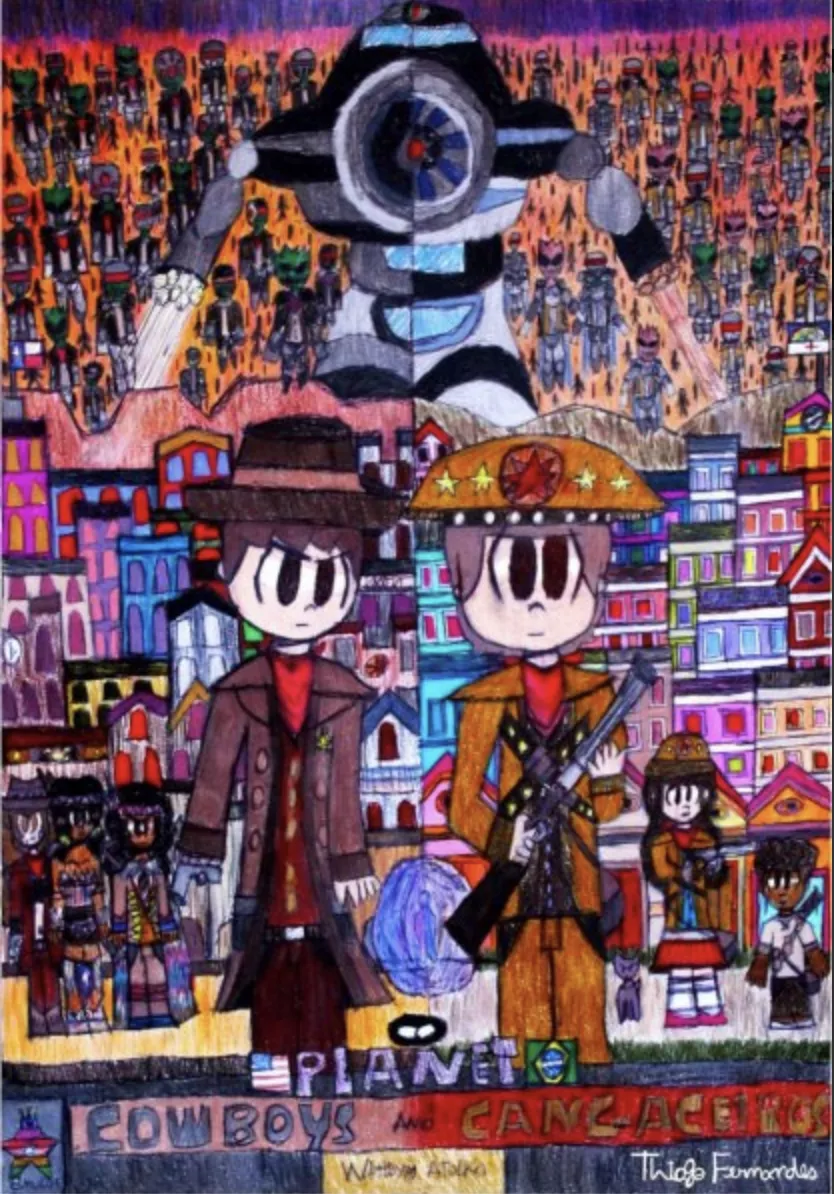 Thiago Santos
Life Animation, 2019
The artist says that the piece represents how he sees the world. Two animated cowboys are at the forefront of a very busy scene in which they are flanked by other supporting western figures. A dense and colorful cityscape is immediately behind them. Above the city horizon is a massive robot with a legion of figures in a yellow field.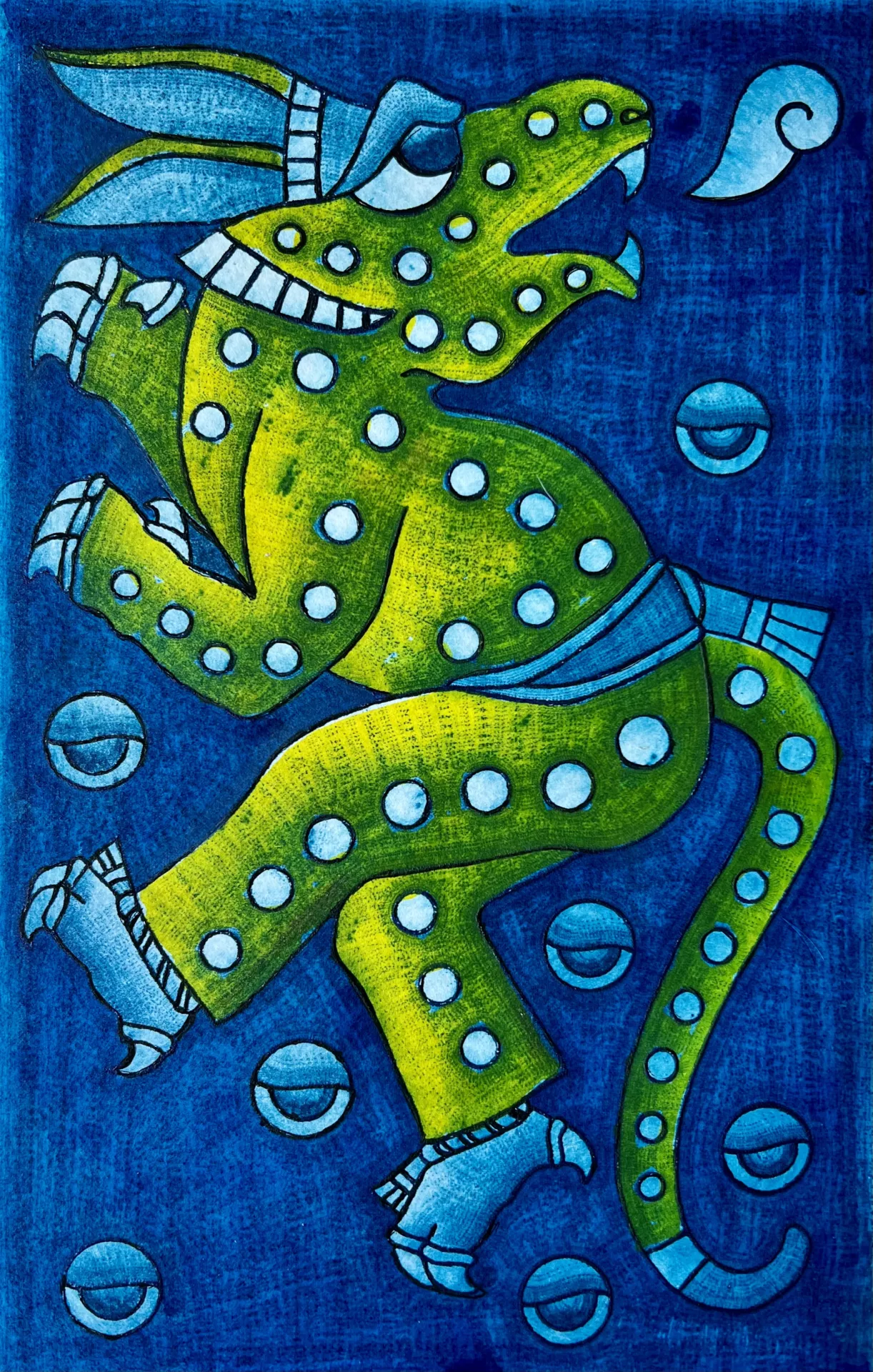 Maestro Reyes Gomez
Jaguar con Estrellas

(Jaguar with Stars), 2012

Ink and Mixed on cotton paper.

This is the first piece of a larger collection called Dancers. An elongated green and yellow tailed figure with clawed paws dances in profile.It wears a feathered crown as a stylized breath puffs from its fanged mouth. Light blue orbs float in the dark blue background.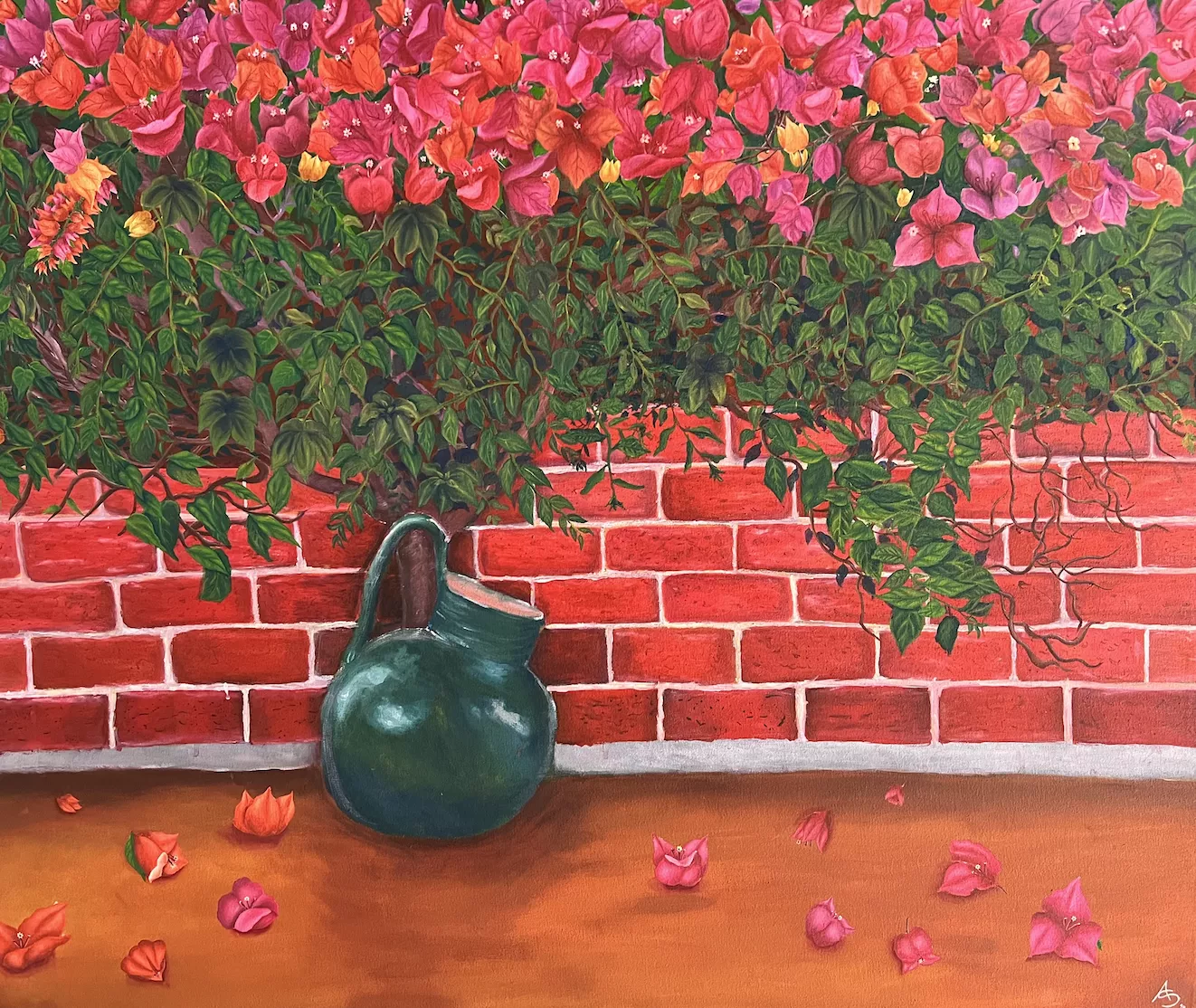 Angel Sebastian Lopez C
Las Bugambilia de Primavera

(Springtime Bugambilias), 2022

Oils on canvas. 50"x60"

The artist's inaugural piece is a dark green rounded ceramic pitcher which sits on the dirt ground where there are scattered blooms in front of a bugambilia trunk. Above a low red brick wall the trunk leads to a layer of lush foliage topped with dark pink blooms.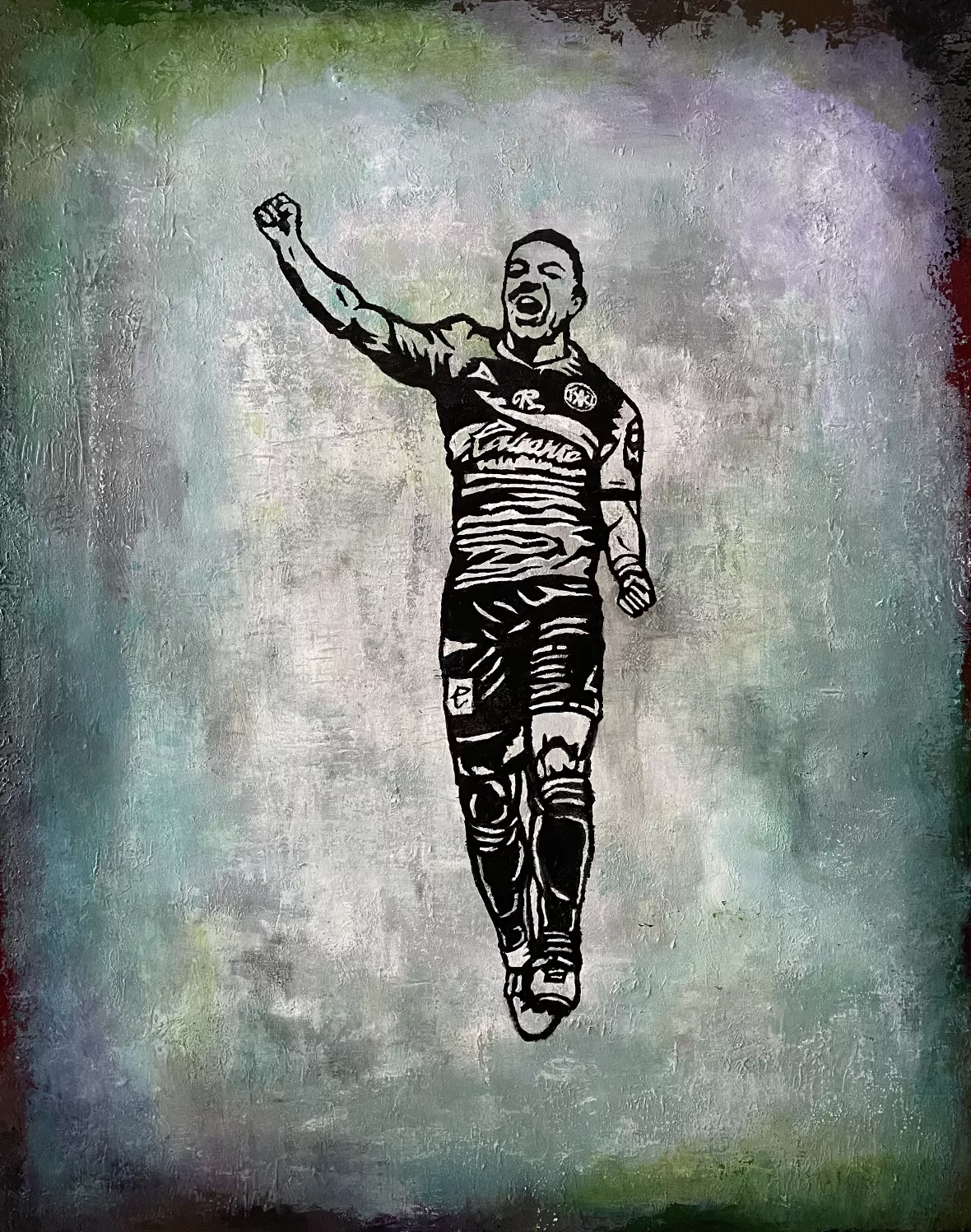 Diego Romero y Garcia
Diegos, 2022
Acrylics on canvas
A triumphant athlete painted in black and white with his fist in the air runs forward in celebration. The background is a textured gray and blue-green that frames the male figure.
Angel Pacheco Soriano
Calinda Oaxaquena

(Oaxacan Folk Dance), 2022

Oils on canvas

The piece depicts the traditions and culture of Oaxaca, Mexico. Women dance in formation with baskets on their heads. Men hold paper lanterns. Giant paperpermachie puppets in the shape of a man and a woman are upright amongst the dancers.Oils on canvas
Rafael Moreno
El Gallo

, 2021

As a child I really enjoyed drawing and being active playing with friends and family! My favorite sport is basketball so I grew up playing basketball with my friends most of the time. Unfortunately while studying a career in Odontology. I had an accident and become paralyzed from my shoulders down. I am an artist now! I use my mouth to paint. I am currently taking art classes and I really enjoy the process to see my artwork developing from beginning to end. I truly thank you all that support my art and help me on my way to become a successful artist.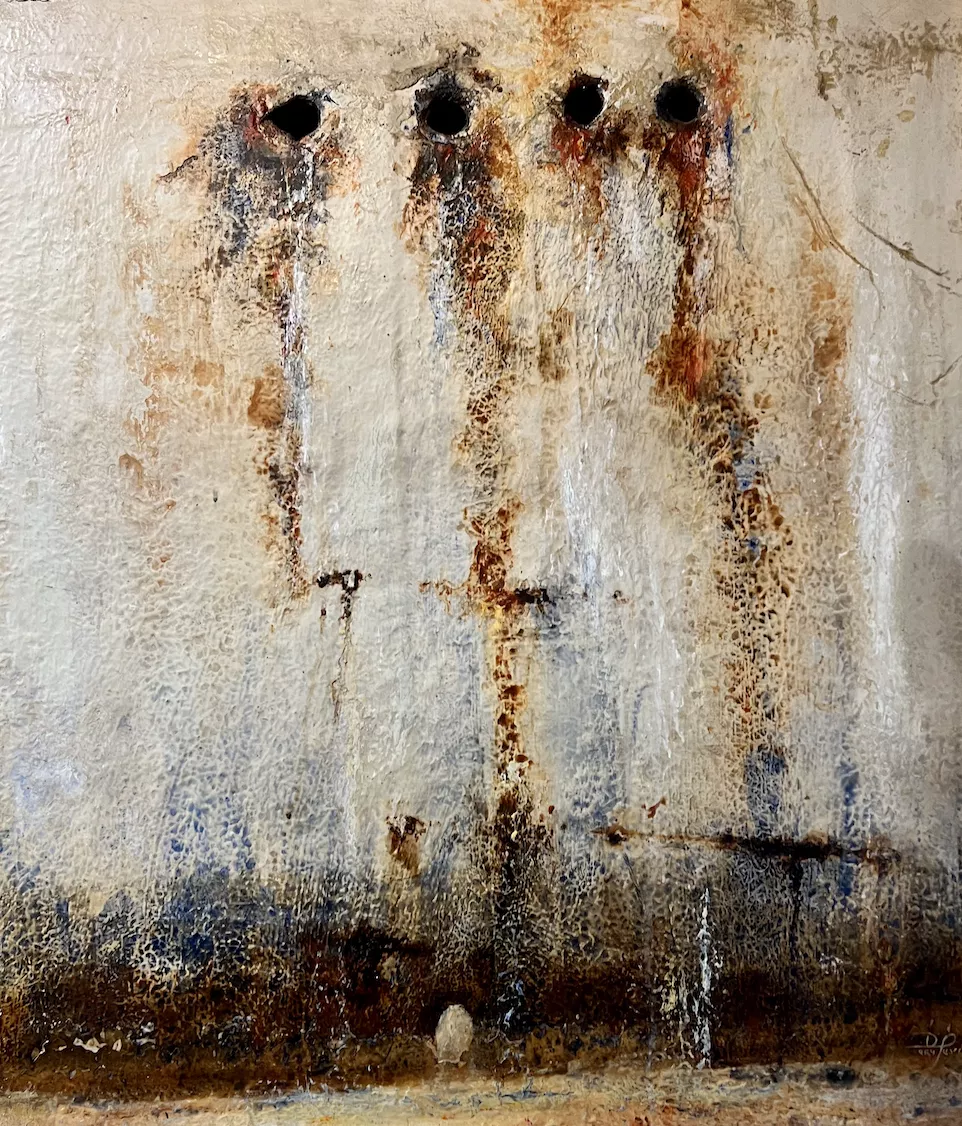 Dory Perdomo
Celeste Sumergido

, (Submerged Heaven) 2019

Metal and other mixed media

The artist describes the piece as recycling as new life. A white textured wall with four black holes at the top and a thick dark rusted brown bottom edge. From the holes rusty stains run down the wall.
2022 Partners Showcasing Disability Artists' Artwork