15th Annual Disability Art Exhibition (2022)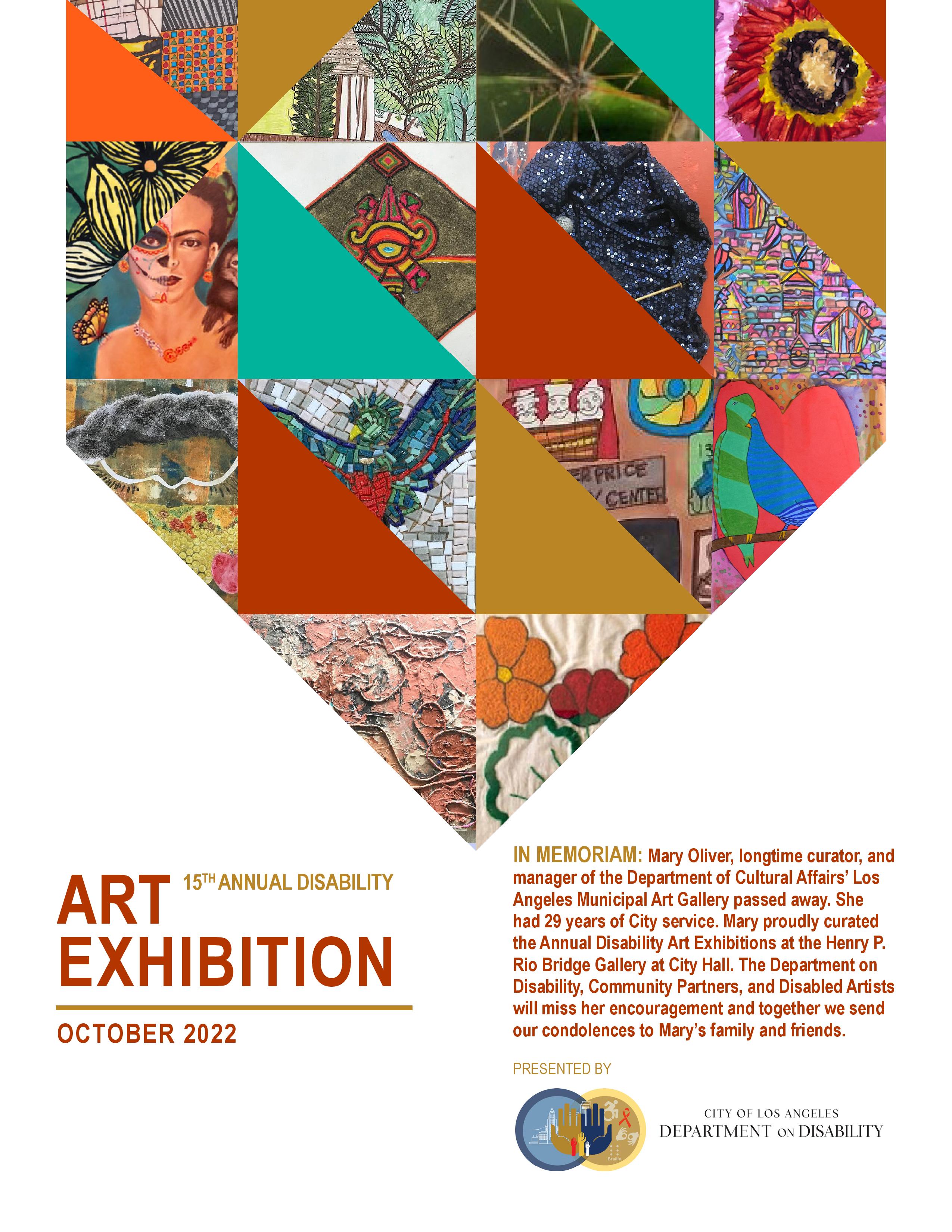 Los Angeles Department on Disability Presents the Fifteenth Annual Disability Art Exhibition.
We have reimagined our annual exhibition as a digitally accessible web page due to the ramifications of the COVID-19 pandemic.  
Disability is a lived reality for many Angelenos; as many as 20 percent of the adult population and 14 percent of students live with one or multiple disabilities. October's Disability Employment Awareness Month pays tribute to the economic accomplishments of people with disabilities and reaffirms the commitment to ensure equal opportunity for all. People with disabilities are a diverse group. Some are born with a disability and others acquire a disability later in life due to age, injury, or illness. Disabilities include a wide range of visible and invisible health and functional limitations. These limitations can present significant challenges to daily life activities such as low vision and blindness, hardness of hearing, deafness, cognition, or mobility. 
It is the Department on Disability's privilege to showcase disabled artists and the organizations that support the artistic talents and abilities of children and adults with disabilities. By exhibiting these works we promote disabled artists' access to artistic expression and a means to achieve financial empowerment.
This exhibition was made possible through partnerships with the Academy of Special Dreams, Braille Institute of America, Exceptional Children's Foundation, L.A. GOAL, and Tierra del Sol Foundation. Their work empowers people with disabilities to achieve their potential as productive and valued Angelenos.
A special thank you to Councilmember John Lee for his support in achieving this milestone: The Fifteenth Annual Disability Art Exhibition that recognizes Disability Employment Awareness Month which promotes disabled Angeleno's access to artistic expression and a means to achieve financial empowerment.
In Memoriam
We dedicate the Fifteenth Annual Disability Art Exhibition in memory of Mary Oliver. She was the longtime curator and manager of the Department of Cultural Affairs' Los Angeles Municipal Art Gallery. During her twenty-nine years of City service, Mary proudly curated the Annual Disability Art Exhibitions at the Henry P. Rio Bridge Gallery at City Hall. The Department on Disability, Community Partners, and Disabled Artists admired her talent and appreciated her dedicated support. She will be greatly missed by all who knew her.